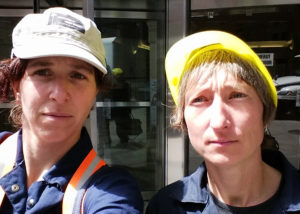 Join the DEPARTMENT at Nuit Blanche on September 30th
Over the twelve hours of Toronto Nuit Blanche 2017, the DEPARTMENT will unveil three new signs to commemorate overlooked civic sites. Join us to remember a unique palliative care hospice that closed in 2013; the activism of night cleaners working in buildings surrounding Queen's Park in the 1970s; and the 1883 referendum that spurred the development of the Toronto Public Library system. Join us for a 30-minute shift of collective remembering at each of these sites as we unpack our "Memory Archive" and share the stories of these exciting sites.
Between official unveilings, you can find us on the street pushing dollies with our gear, or on the job preparing to install our new signs.  Find us in the vicinity of each sign unveiling up to one hour before and one hour after the times listed below. Follow us on Twitter @publicmem for up-to-the-minute locations on the night of.  Find out more about events on the Nuit Blanche website.
Remembering "Perram House" @ 8:30 pm, outside 4 Wellesley Place
Remembering "Cleaner's Action"  @ 11:59, outside 80 Grosvenor Steet
Remembering the "Vote for the Free Library"  @ 4 am at Yonge and Charles Street (northwest corner)