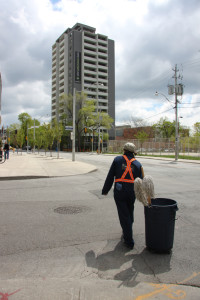 Research. Listen. Archive. Remember.
Since 2011 the DEPARTMENT OF PUBLIC MEMORY has visited dozens of public services and programs around the city gathering living memories from Toronto residents. In our growing MEMORY ARCHIVE you can READ stories about how specific services have changed over the years, LISTEN to personal recollections about how they've made a difference and SEE pictures of what they once looked like and what they look like today.
The DEPARTMENT created the MEMORY ARCHIVE because public memory and dialogue are urgently needed right now, as all levels of government face dramatic decisions about what to cut and what to maintain.  As challenging as it may be, we need public conversations about the future of our common care for each other.  We need to tell each other the stories of our public services and why they matter to our lives.  Based on our conversations we've made  and installed commemorative signs throughout the city to commemorate these sites and to provoke civic dialogue in the streets.  Visit the archive to see the stories the DEPARTMENT has gathered thus far.