The last month you started to see the cubbies emptying out.  I can only imagine how sad it was for the staff.  Some of them they were there for a long time.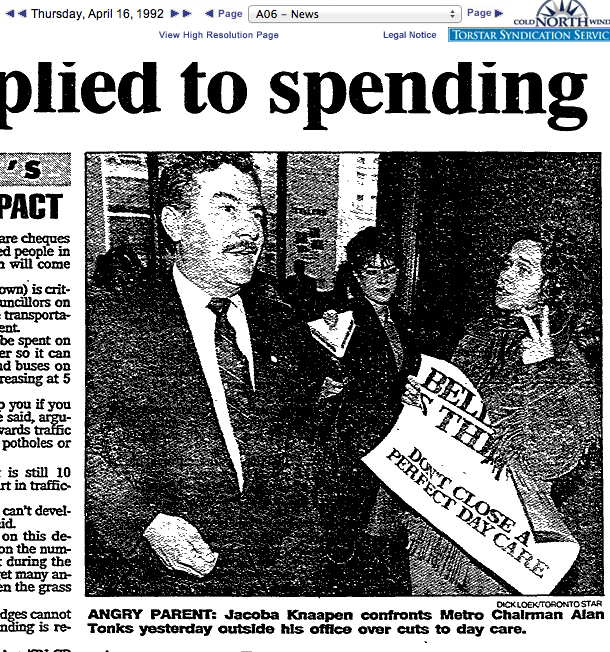 In July of 2013 the Bellevue Child Care Centre closed.  Everyone our Department spoke to had a different reason for its closure.  It was never clearly explained.  We heard that the centre was not efficiently run.  We heard that the city wanted to move these childcare spaces to a "priority neighbourhood".  We heard that the building did not meet accessibility codes.  (However, the new daycare and school, Westside Montessori School, now leasing the building did not have to comply to these regulations because 95 Bellevue has heritage status.)  We heard that flooding in the basement caused mould.  We heard when the city decided to move the Children's Services offices back to City Hall that the building was no longer needed.    As one father wrote in the Toronto Star,
"there is good reason to believe that the proposal to shut down Bellevue came from within its very walls. The managers on the upper floors, forced to cut 10 per cent from their operating budget, will neither confirm nor deny this, nor will they allow the daycare workers on the main floor — stressed, yet stoic, still caring for our kids — to speak with parents or journalists about any of it."
  Parents with children at Bellevue were given three months notice to find a new daycare spot.
Over the seventy years that 95 Bellevue has received public funding, it has suffered various funding cuts and threats to its funding.  In 1992 parents and childcare advocates were not able to stop the downsizing of 95 Bellevue from 67 – 16 spots.  At one time Bellevue had school-aged kids, pre-schoolers, toddlers and infants. "When I first knew Bellevue they had kids on the main floor up to the third floor.  There were kids everywhere.  It was like Mother Hubbard.  It felt like kids were hanging off the building, coming out the windows.  Between 95 and 91 there were kids everywhere."  During this phase of downsizing, the back playground was turned into a parking lot and the Children's Services Division of the city took over the 2nd and 3 floors.
In 2012 Bellevue was one of three municipally run daycares threatened with closure.  Parents fought to keep it open, and it did remain open for another year. Today there are only 52 municipally run daycares left in Toronto.