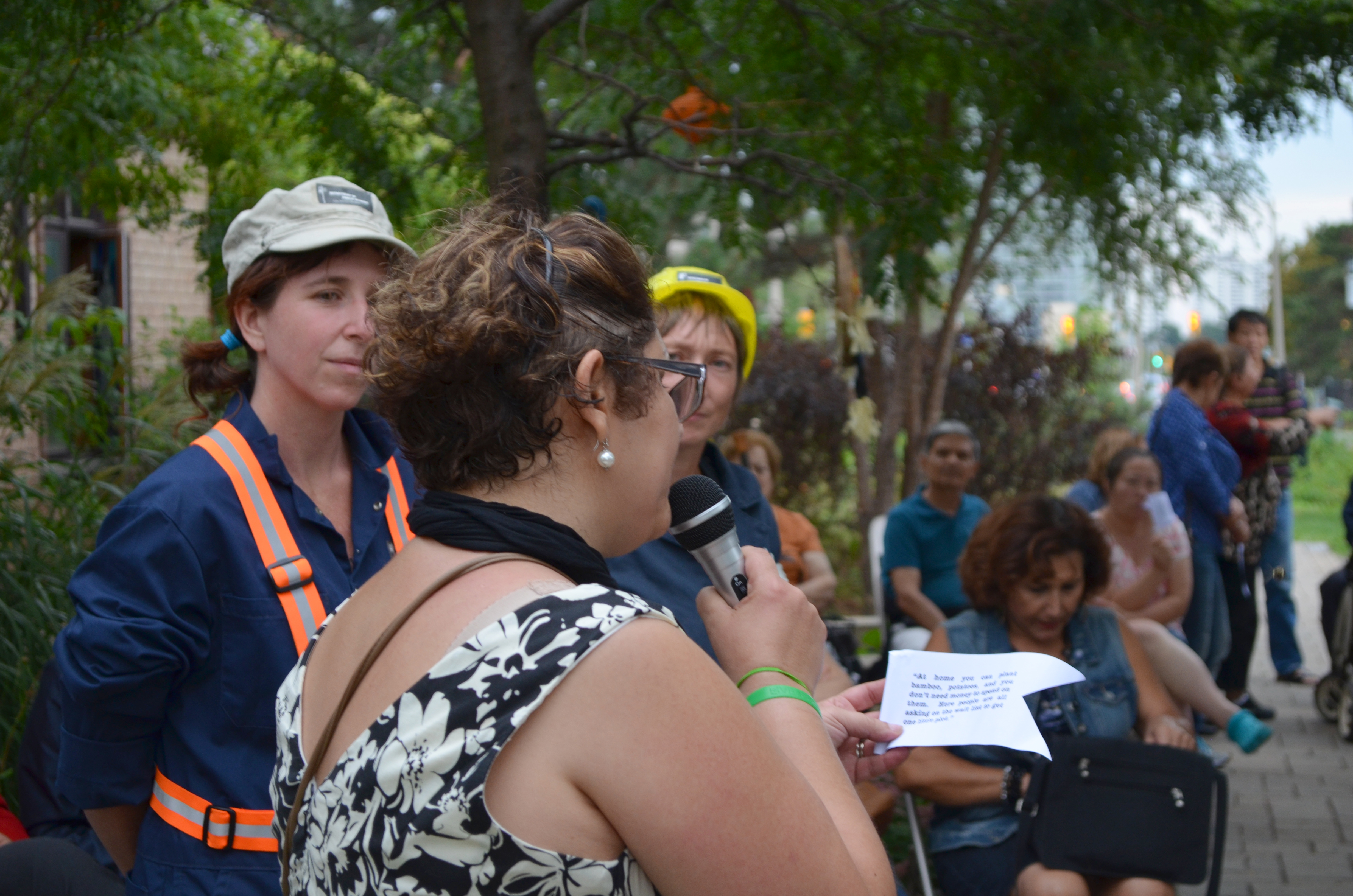 "
We realized there was a food issue in the neighbourhood when we got here.  There was no grocery store, the subway was still being built.

"

The Oriole Community Garden was started in 2005 through a partnership between Workin­g Women Community Centre, the Advent Lutheran Church, Food Share, African Food Basket, Oriole Community Services Association, North York Harvest and gardeners in the neighbourhood.  It emerged out of a desire to contribute to food security in the area.  The important role that it also plays in helping newcomers resettle in Toronto has become more and more apparent over the years. When Nasrin Khatam, who coordinates the garden in the summer months, first came to work at the garden on a mosaic project "it was eye opening for her.  People were coming and telling her things about their lives.  She could see how the garden connected with such issues and with settlement more broadly."

It is also important to acknowledge the history of Working Women Community Centre, without which the garden would not function. WWCC was created in June 1974 in Toronto's West End to help newcomer women with pre-employment and employment counselling.  In those years it was run by and for primarily Portugese,

WWCC has a long history of "innovative and responsive employment training and social enterprise programs."  Marcie Ponte joined the WWCC board in 1976 and has been the Executive Director at Working Women's since 1999. She tells the story of how WWCC ended up working in the Fairview area and eventually began the garden:  "When I came here in '99 as the ED the CIC (Citizenship and Immigration) said to us if there are less than 2 LINCs (Language Instruction for Newcomers to Canada) then we will shut you down. At the time we had one and a half. I spoke with this guy at CIC and he said if you can get a place with Peanut Plaza you are in for life with the LINCs. He said Don Mill. Just drive up there. So I got in my car and I just drove North. I was getting really exhausted. It's so different from downtown, wide spaces … I found a private training institute that had a space in the basement of Peanut Plaza.  So I said let me rent space and I'll bring the clients.  The first LINC class we had 100 students. We didn't know what to expect. We put dividers up and had 50 on one side and 50 on the other. It was overwhelming. CIC came in and said this is not acceptable and I said no, it isn't. So I found place at 5 Fairview Mall Drive.  And there has just been a flow of people going in since."

When WWCC started working in the area they realized there was a food issue in the neighbourhood.  "There was no grocery store, the subway was still being built. The busses are terrible, not like downtown. You can wait 45minutes. You can imagine why seniors don't get out. But the garden is so central that people actually get out. It's accessible."  Most of the gardeners at Oriole Garden are students in the LINC program.  People come to the ESL classes and then get connected to the garden through staff there.  People practice English in the garden and make new friends.  Sometimes the gardeners use space at the school for potlucks when it's raining.