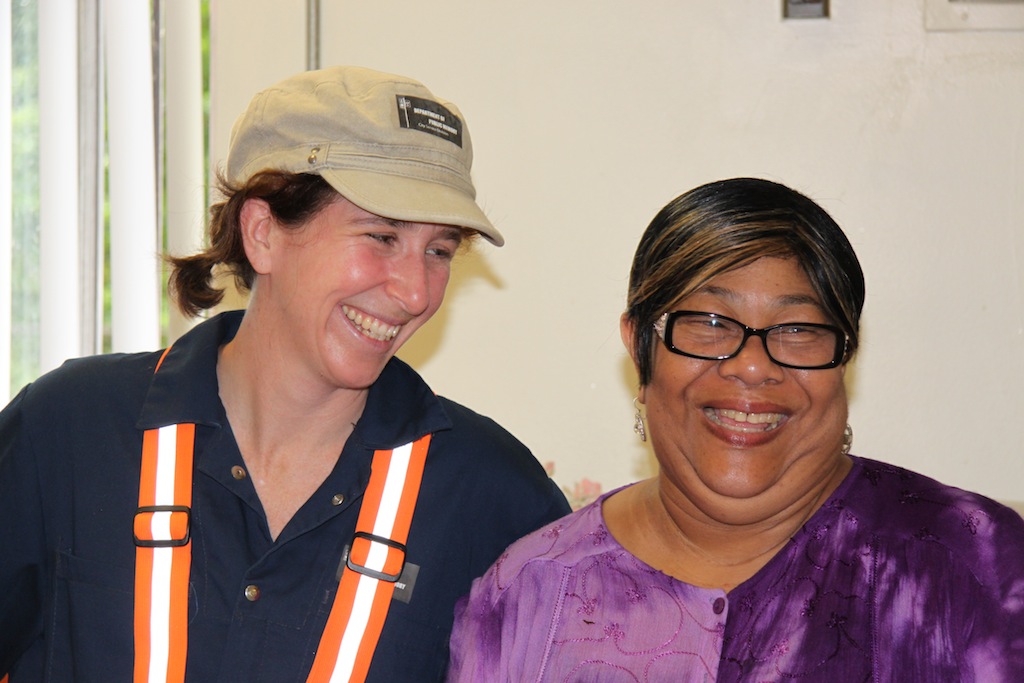 "We developed this program from scratch. On the first day we had 16 clients, now we have 70."
Warden Woods Community Centre
began operating food security programs at 40 Teesdale in 2000 through a partnership with Agincourt Community Centre. Community Development worker, Barbara Garcia (who coordinates Warden Woods' programs at Teesdale) remembers that, when she arrived at Teesdale, there was a meal program in place, called "Congregate Dining". It cost each individual $3 a plate. When that program ended, Garcia started up a homeless drop-in meal program, which offers a sit-down lunch every Wednesday, a bagged lunch program on Thursdays (with a dinner to go every second week) and a lunch on Mondays in the winter. Garcia secured funding from the City of Toronto, which still funds most of the Teesdale food security programs. The Monday 'Out of the Cold' meal is funded by United Way Toronto.  Garcia remembers starting the program saying,
"We developed this program from scratch. I didn't know how to start a drop-in program. My proposal was like "I'll run the program 5 days a week"! Anyways, we did all the flyers, went out in the community, did a focus group. We started the program. On the first day we had 16 clients, now we have 70."
The history of Warden Woods' programs at Teesdale goes back even further, to 1977, when Teesdale residents demanded more recreational and cultural programs, particularly for children and youth. Warden Woods Church and Community Centre offered to supply an on-site community worker at that time. They established the "Teesdale Community Centre" at 40 Teesdale, which initially consisted of an office/lounge, a meeting room, and a recreation area. The Centre was funded in the first year by two church groups and operated by community worker Don Hildebrand. Over the years, the Centre offered a "Teen Rec Room" at 30 Teesdale, a small library, a quarterly newsletter and many different drop-in programs. It was guided by a tenant advisory board.
Today a typical week of food programming at Teesdale is jam-packed. On Mondays the food truck from 2nd Harvest arrives and the staff unload it with the help of community volunteers. On Tuesdays, staff catch up on program operations. On Wednesdays Flavienne Martin and a number of volunteer cooks make a hot lunch, which is served by volunteers, and Michael Nyakundi runs the fresh produce market at the Warden Woods Firvalley site. On Thursdays the bagged lunch program operates. On Fridays a fresh food market is offered at the Teesdale site. All the while, staff provide clients with access to a computer and phone, information about housing, jobs and, self-care, workshops, clinics and personal support.