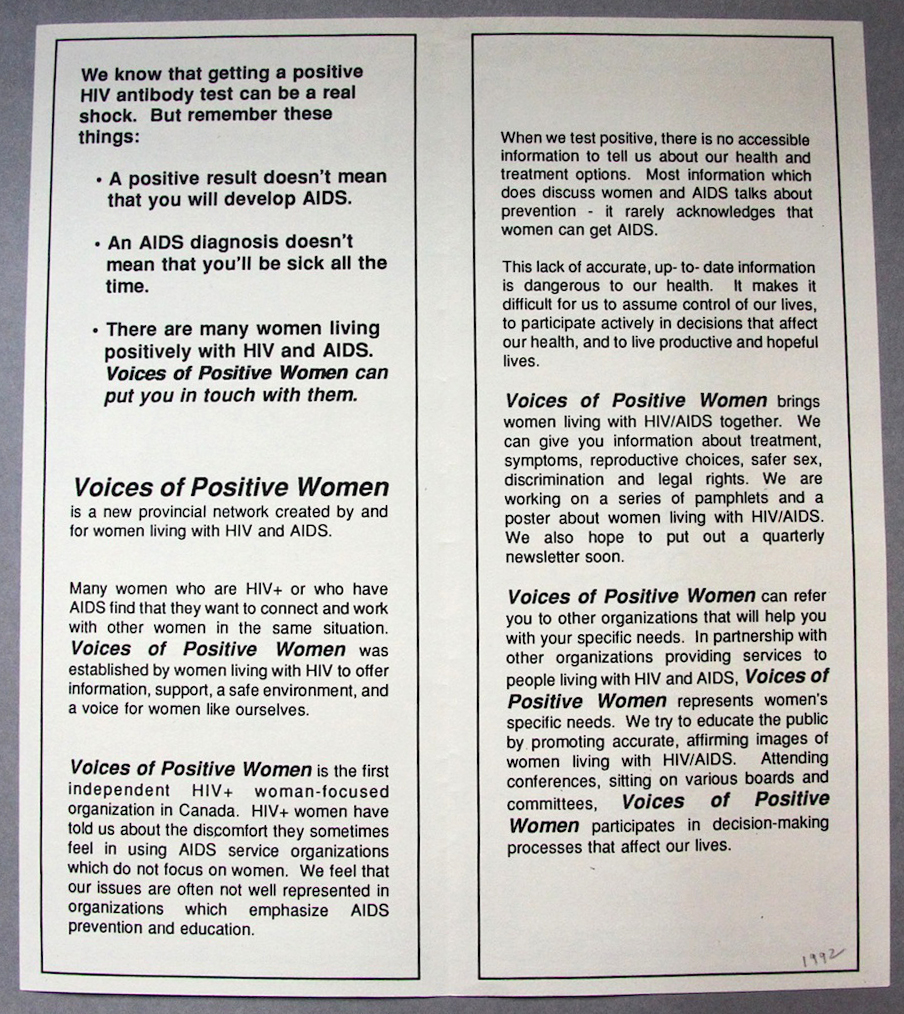 "So much work in social services and activism now just repeats what came before. But we had to completely invent, start from scratch. There was no paragraph, or internet to go to. Voices of positive women.  It's just really the voice of women."
Voices of Positive Women
was founded in 1991 by two Toronto-based HIV-positive activists, Andrea Rudd and Darien Taylor. At that time there was very little information available regarding the specific impacts of HIV on women's health. Representations of the diverse lives and experiences of women living with HIV were also virtually non-existent. Voices grew out of Rudd and Taylor's work on an international anthology titled
Positive Women: Voices of Women Living with AIDS,
 published in 1992 by Women's Press.
Taylor remembers the early years saying, "[t]he book in a weird way was the beginning of Voices.  She was an artist, I was a writer. We wanted to do a project together.  We would sit around and talk but we didn't know what we wanted to do because we didn't know who we were. It was just such a revelation when we realized we wanted to talk with other HIV+ women!  So we got a Canada Council Exploration Grant – for like $2000. The two of us, we got no money, it basically covered stamps and the letters. We were so naive, we thought, "We'll write a letter and get it translated – a call for submissions – into seven or eight languages".  We did thousands of photocopied letters – down at the photocopy place at Spadina and Bloor.  We had a little PO box at the Parkdale post office.  It wasn't just a call out for writing, it was "expression." You know, drawing, photos, poetry… We'd go down to the PO box and it was like Christmas morning, we'd get all sorts of things.  We'd get these big tubes rolled up.  It was fantastic. One time we got a letter back from New Zealand, saying love the idea but I can't understand a thing in your call, it's in Hungarian!!!
We sent off these letters all around the world!  We sent them to women's health clinics and organizations all around the world.  Anywhere there might be women with HIV who could be reached.   We got a fair bit of response.  After getting all the submissions for the book we were looking for some way to get additional funding to finish the book.  We approached Heather Ramsay at ACAP – she did Rites Magazine, and Pink Ink, a Gay Magazine … she said, "I can't fund the book because it's international, but I could fund an organization". So we said, "let's get an office and finish the book!" So we got a desk, a computer … and then we had an obligation to start an organization."
The first Voices office was at 517 College Street in Toronto. It quickly became a hub where positive women could gather to talk and organize. It also became known as the first place to call if one received a positive HIV test result. Most of the other AIDS service organizations at the time were focused on serving men. Here, women found that they could talk about concerns like how to care for their children; how to become a parent while positive; sex and dating; stigma; and, when and how to disclose one's status. Self-care and the fight for treatment access were also critical discussion topics. Members wrote informational newsletters on topics like sex and pregnancy and committed hours on end to reaching out to other positive women.
FROM THE ARCHIVES:
Here are the first three brochures that Voices of Positive Women produced.  Copies of the originals are in the Voices of Positive Women file in the Canadian Lesbian and Gay Archives.